Hey! How was your weekend? Mine was wonderful- I just adore long weekends. Can't they all be like that? Plus, it was Valentine's Day on Saturday so this weekend was already going to be extra sweet:)
On Friday at work we had our annual dessert bake-off, complete with a delicious lunch provided by the company.
After work we went to Pybus Market with friends to drink wine at the Jones of Washington tasting room and eat dinner. It was really fun – we can't enough of Jones' wine:)
Saturday morning- Valentine's Day- we made breakfast together which consisted of baked red velvet donuts (made with the leftover red velvet cake mix from these scones), bacon, and strawberries. Oh, and coffee- naturally. Baked red velvet donuts are delish by the way- I'm definitely going to have to share the recipe!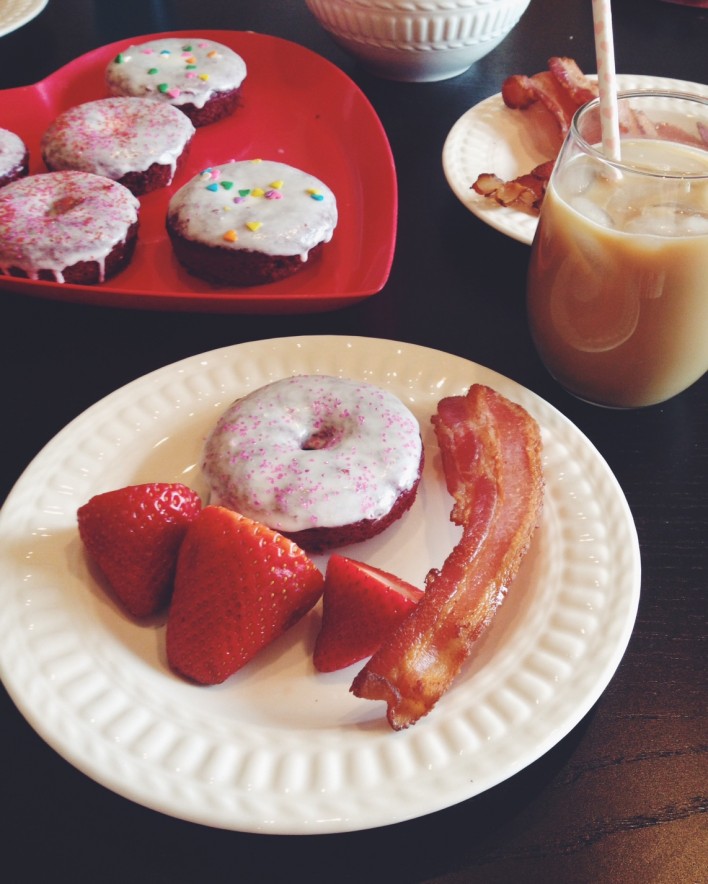 We also exchanged gifts in the morning. I got Marty a sweater and a couple of his favorite goodies. He got me this lovely Kate Spade necklace! I love it. It has my initial "K" on the front, and on the back it says "One in a million". Perfect.
I was wearing pink all day, of course. I'm in love with this shirt my mom got me from Buckle, and these j.crew socks I couldn't say no to!
The weather was beautiful and unseasonably warm. It's been in the 50s and 60s the last week or two- so crazy! We took the dogs for a long walk on the loop trail down by the river. They got confused, thought it was summer, and insisted on splashing around in the frigid water.
When we got home, I couldn't wait any longer and had to bust into the chocolates. There's nothing wrong with dessert before dinner, right? How cute are these by the way!
And my puppy girl thought I was going to share and got in my shot. Don't worry, she got a Valentine's Day treat or two. Just not chocolate:)
For our Valentine's dinner we just cooked together at home. Marty grilled us up some perfect steaks (so good) and I roasted some asparagus and potatoes. Easy, but super tasty! It was so nice to be out on the deck in February. I relaxed with a drink while I watched the grill master at work;)
On Sunday we started our day with a bible study, followed by a relaxing morning. We did a little shopping in the afternoon and couldn't help but stop in at Blue Flame, one of our favorite places in town- for a quick bite to eat. We had crab wontons (a given), a California roll (so fresh), and a new roll we hadn't tried before. It was really good. After lunch, we ran and got me a strawberry Italian soda for dessert, and we did a little driving around. I love driving around with no place to go.
We watched a movie together at home, Jersey Boys- which I thought was good. I'd love to see the show in Vegas! I got to see a little preview when I was there for a convention and it was fantastic.
On Monday, we both had a super relaxing morning followed by a super relaxing day- getting caught up on laundry here and there. It was pretty nice again so we used the grill to make some barbecue chicken for dinner. We caught a beautiful cotton candy sky sunset.
And just like that, we are back to the grind today! I hope you have a wonderful Tuesday!
xoxo,
Kayla